Love living at UCCS? We would be delighted to have you back on campus next year! Current residents do not need to submit a new housing application or pay an additional deposit - instead, they are able to request housing for the following academic year during our annual housing renewal event. This is the best way to secure the room of your choice, so mark your calendar to attend.
Renewal Period: Feb. 24 - March 5
How Do Renewals Work?
Prior to renewal period, you will receive your personal 2020-2021 renewal form in your campus mailbox. This form is unique to you, so be sure to keep track of it!
Current residents are able to submit renewal requests in-person at designated times based upon the number of credits they have completed.* The more credits you have completed, the earlier you can submit your renewal request. The renewal form you receive in your mailbox will indicate the number of credit hours you have completed. This will inform you what "group" you are eligible to attend (see below for details).
If you desire to request a meal plan for next year, you will be able to indicate this on your renewal form.
The earlier you submit your renewal request, the higher your priority will be!
*Please note: credit hours are based on completion at the end of Fall '19 semester
 
Renewal Groups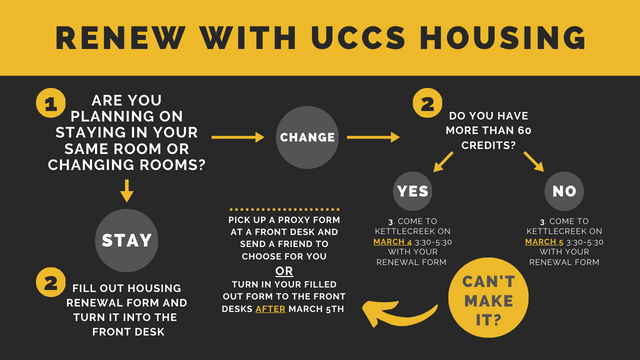 Special Exceptions
Upgrade Group
If you are in Group 2, you may bring a friend from Group 3 if you want to room with them.  Yep, that's right...if you are an upper-class student and wish to live with someone who may not have enough credits to submit a request at your group time, you can upgrade their group status and bring them along for the ride!
Proxy Rights
If you are unavailable to attend your assigned time, you can obtain a Proxy Card at the Monarch or La Plata House Desks.  Give your completed proxy form to your designee to bring to the renewal session on your behalf.  Your designee can arrive during your group time to complete your renewal.  
Your proxy should arrive with both your completed renewal form and proxy card.