Our campus community is made up of three distinct village areas spread across the bluffs. If you are a first-year student or an upper-class student who wants the traditional residential experience, look at Summit Village or Village at Alpine Valley. First-year housing facilities are closed over winter break. If you are over 21, an international student, or are transferring in with 30 or more credits, check out the upper-class Alpine Village Apartments.
All of our floor plans have internal bathrooms only shared by your suite-mates or roommates - we don't have community bathrooms. Students say our suite-style living offers the perfect mix of privacy with the opportunity to study, play, relax, and meet friends. All rooms come with a Twin XL bed, wardrobe, desk/chair, and bookshelf.
Furniture:
Summit Village/Village at Alpine Valley: An extra-long twin bed, a desk with a chair, a wardrobe, a bookcase, mini-blinds, loveseat, a chair, an end table and a trash can. Double occupancy rooms have two beds, two desks and two chairs, two wardrobes, and two bookcases.
Alpine Apartments: An extra-long twin bed, a desk with a chair, a bookcase, mini blinds, a dresser, a sofa chair, dining room table with chairs and an end table.
* Lights are not provided in these spaces. Residents should bring their own lights.
Explore our resident hall offerings to find out for yourself!

Click and drag to get a 360 view of the Village at Alpine Valley!
Everything you need is less than a five-minute walk from Summit Village. Going to class, a campus concert, to study, to eat or shop is as simple as putting on your shoes. Summit Village is open to all students who enjoy the traditional residence hall experience. The village was constructed with a ski theme – each building is named after popular Colorado ski resorts. Enjoy programs, entertainment and support you won't find at an off-campus apartment.

Located on the north end of campus, these residence halls give easy access to hiking and the campus Recreation Center throughout the nearby bluffs. Each building features a large community lounge area on every floor to allow for the ability to better connect with other students on your floor, as well as a great place to study and enjoy the gorgeous views of Pikes Peak and Garden of the Gods.

Alpine Village Apartments

Alpine Village Apartments

Want the features and freedom of apartment living along with the activities and convenience that you would expect from traditional on-campus housing? Designed specifically for our Sophomore through Graduate Student population, Alpine offers fun programming designed to help you meet your neighbors, succeed in school, and move on to life after UCCS.

360-Degree Online Photo Tours

Check out our spaces online
Everything is included with Housing!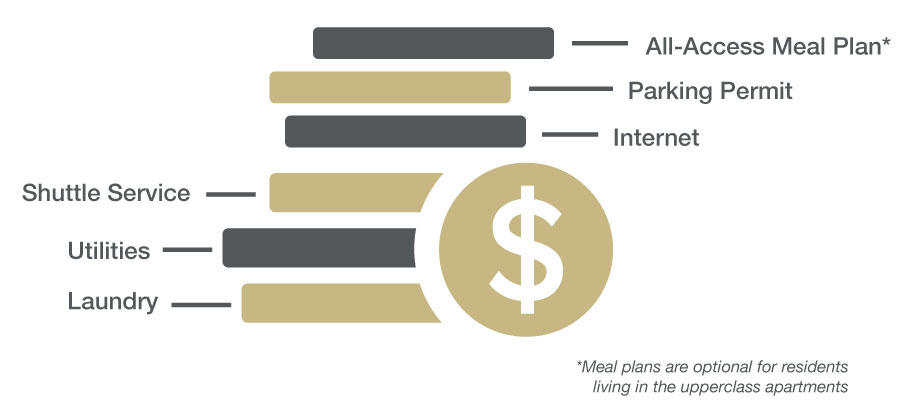 Want to Tour the Resident Halls?
We'd love to share our home with you!
In "normal" operations, if you are attending a campus tour through the Office of Admissions, you will have the opportunity to see inside the residence halls during that time. At this time, Housing is not offering tours in our facilities.

Due to COVID and the implications for safety and social distancing, we've also taken some 360-degree photos of some of our spaces so you can view campus from the comfort of your own home. Click the button below to view spaces in Summit Village and the Village at Alpine Valley.