Spring Residence Hall Closing is Coming Up!
Signing Up for a Checkout Time:
Residents will sign up to check out with their RA. Sign-up sheets will be posted for each community beginning May 2nd, 2022. More information about signing up and checking out will be provided at your floor's closing floor meeting, held on the week of April 25th-May 1st. See your RA for more information!
Checkout Week and Checkout Deadline:
Checkout Week is May 8th – May 14th. The residence halls will close and transition to summer housing on Saturday, May 14th at noon. Residents will need to either sign up for Summer Housing or check out of their room by NOON on Saturday, May 14th. Any resident not approved to stay for summer and not checked out of their space by May 14th at noon may receive additional fees for improper checkout, late departure, key replacement, and item collection/disposal, along with forfeiture of their Housing deposit. To avoid these fees, please speak with your RA or email housing@uccs.edu if you have any questions or concerns about checking out by this deadline.
All students, with the exception of those students who applied for summer housing, must vacate by Saturday, May 14th at noon.

Unlike winter break, all apartment residents must vacate during the summer break unless they have specifically applied for summer housing.
Summer Residents:
If you have contracted for the full summer housing program you will need to stay in your current space until we have cleaned Crestone house.  You will be notified when your apartment is ready for you and you will be required to complete your move within 48 hours after you are notified.
Preparing Your Space for Checkout:
You'll receive checklists, but be prepared to return your space back to its original setup. This means cleaning floors and wiping down furniture, delofting your bed and turning the loft kit in (it's a $250 delofting fee if it's not delofted!), and moving your furniture back into its original setup if you have rearranged your suite. Your RA will have a checklist for you at your closing floor meeting on the week of April 25th – May 1st.
Late Housing Renewals and Deposits:
After the official closing of campus housing (May 14th) you will be required to pay a new deposit should you elect to return to campus when you fill out your 2022-23 application.  The office will be refunding deposits after any damage charges are posted, this will all be completed by the end of May.
Please remove all of your personal items and dispose of trash in designated areas.
Place items that you wish to donate in the following areas:  Antero Commons(Alpine Village) and the Lift (Summit Village)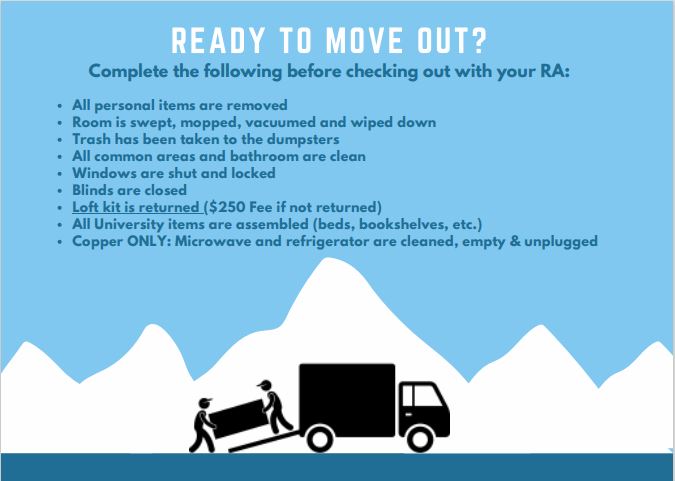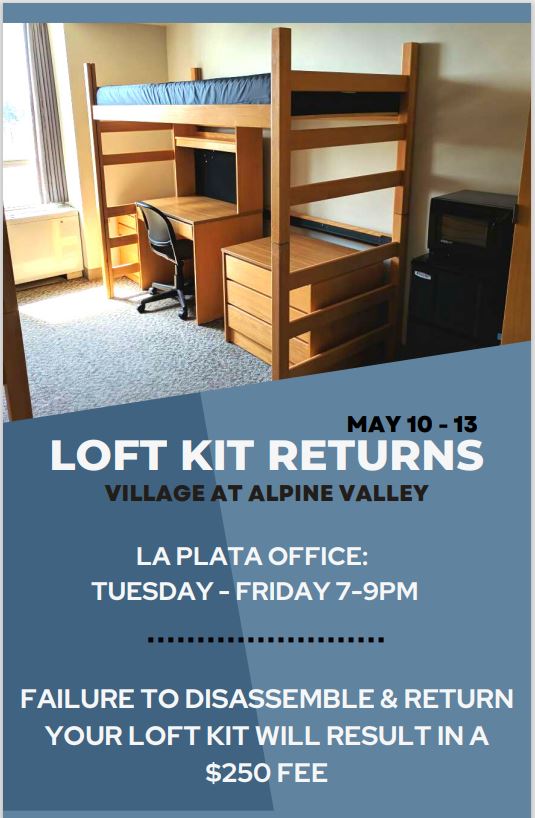 Move-Out Donation Locations Village at Alpine Valley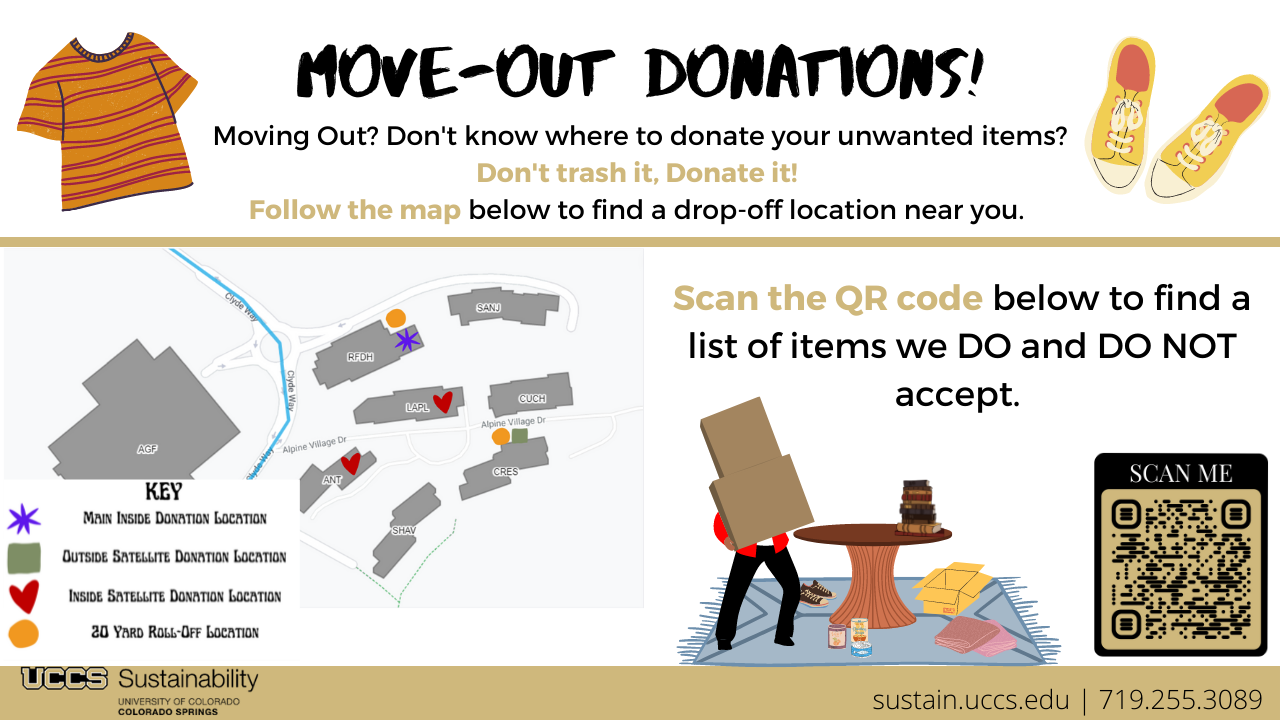 Move-Out Donation Locations Summit Village