Spring Residence Hall Closing is Coming Up!
Signing Up for a Checkout Time:
Residents will sign up for a check-out appointment online. The appointment sign-up page will be available and accepting appointments beginning on Friday, April 28th @ 8: a.m. (MDT). To select an appointment, proceed to the Housing Application Portal and click the "appointments" link.   More information about signing up and checking out will be provided at your floor's closing floor meeting, held on the week of April 23rd - April 30th. See your RA for more information!
Checkout Week and Checkout Deadline:
Checkout Week is May 8th – May 13th. The residence halls will close and transition to summer housing on Saturday, May 13th at noon. Residents will need to either sign up for Summer Housing or check out of their room by NOON on Saturday, May 13th. Any resident not approved to stay for summer and not checked out of their space by May 13th at noon may receive additional fees for improper checkout, late departure, key replacement, and item collection/disposal, along with forfeiture of their Housing deposit. To avoid these fees, please speak with your RA or email housing@uccs.edu if you have any questions or concerns about checking out by this deadline.
All students, with the exception of those students who applied for summer housing, must vacate by Saturday, May 13th at noon.

Unlike winter break, all apartment residents must vacate during the summer break unless they have specifically applied for summer housing.
Summer Residents:
Summer housing assignments will be distributed to summer students on May 1st.  All summer school students will be residing in Crestone House. If you have contracted for the full summer housing option, you will need to stay in your current space until we have cleaned Crestone house.  You will be notified when your apartment is ready for you and you will be required to complete your move within 48 hours after you are notified.  Apply for summer housing by April 30th if you plan to stay on campus for summer so that we can plan your transition appropriately. 
Preparing Your Space for Checkout:
You'll receive checklists, but be prepared to return your space back to its original setup. This means cleaning floors and wiping down furniture, delofting your bed and turning the loft kit in (it's a $250 delofting fee if it's not delofted!), and moving your furniture back into its original setup if you have rearranged your suite. Your RA will have a checklist for you at your closing floor meeting on the week of April 23rd - April 30th. 
Late Housing Renewals and Deposits:
After the official closing of campus housing (May 13th) you will be required to pay a new deposit should you elect to return to campus when you fill out your 2023-2024 application.  The office will be refunding deposits after any damage charges are posted, this will all be completed by the end of May.
Please remove all of your personal items and dispose of trash in designated areas.
Place items that you wish to donate in the following areas:  Antero Commons(Alpine Village) and the Lift (Summit Village)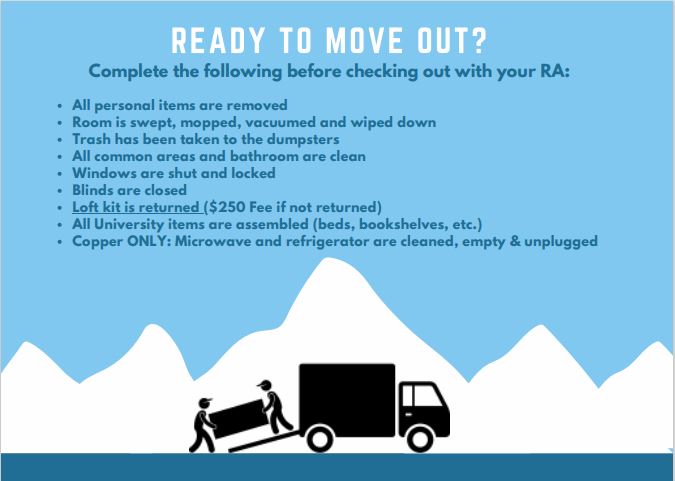 Donations
The ARC
4402 Austin Bluffs Pkwy Colorado Springs, CO 80918 (10-minute or less drive) Monday – Saturday, 9 am – 5 pm, Sunday, 10 am-5 pm
719-522-1203
List of accepted items: https://www.arcthrift.com/donations (Will accept CLEAN microwaves and mini-fridges.)
Goodwill
4158 Austin Bluffs Pkwy, Colorado Springs, CO 80918 (10-minute or less drive) Monday – Saturday, 9 am – 8 pm, Sunday, 9 am-7 pm
719-266-8155
List of accepted items: https://goodwillcolorado.org/donate/material-donations/ (They will accept CLEAN microwaves and mini-fridges. They will not accept TVs.)
Clyde's Cupboard
Find donation bins in La Plata, Monarch, and outside of Clyde's Cupboard in the UC, May 5th-13th
Contact the Basic Needs Coordinator Amber Gilson agilson@uccs.edu for more information (List of Accepted Items: unexpired food that doesn't require refrigeration)
Small Appliance Recycling
La Plata and Monarch front desks, May 8th-13th
Email: sustain@uccs.edu
Items accepted: Broken and CLEAN microwaves and mini-fridges (Service provided by UCCS Office of Sustainability and Office of Materials, Acquisitions, and Distributions)
Residence Hall Materials Donation FAQ
Q: In what condition will the donation centers accept my stuff?
A: They will accept materials that are clean and functional. The materials can show minor wear and tear.
Q: What is the process of donating my stuff?
A: Reference the list of accepted items, ensure your items are clean, pack up your car, go to the drive thru and wait for an attendant to help you.
Q: Is there any cost associated with donating stuff?
A: No
Q: What if they do not accept all my stuff?
A: If they are accepted, donated them to Clyde's Cupboard. If they are dirty, clean them and try again. If they are broken microwaves or mini-fridges broken, make sure they are clean and drop them off at a designated location. After considering all options, put the materials in one of the roll-off dumpsters near the residence halls.
Q: What if I do not have access to a car or my car is not large enough for all my stuff?
A: Work with your friends, roommates, and others in your residence hall for help. Consider making a plan to visit a donation center together to avoid having to take multiple trips.
Q: Why should I donate my stuff?
A: To avoid higher waste disposal costs, to feel good about giving the materials a second life, and to reduce unnecessary waste from filling up the landfill
Downloadable Donation Information
  Loft Kit Returns